Welcome to rhoen-bull the shop for vw bus drivers
Welcome to rhoen-bull.de
thank you for visiting our shop, here you can buy many things for your vw bus. We wish you a nice time here.
Wir machen vom 20.12.19 bis zum 31.12.19 Urlaub, danach sind wir wieder für Sie da.

We are on holidays from 20.12.19 until 31.12.19.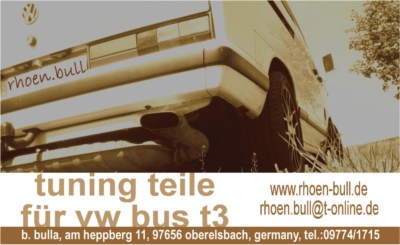 If you have some questions, don't hesitate and contact us, we enjoy to answer it.
International customers are welcome we send our products in Europe and worldwide. Shipping costs on application.